DIDIUS JULIANUS


"The more prudent of the Praetorians, apprehensive that, in this private contract, they should not obtain a just price for so valuable a commodity, ran out upon the ramparts; and, with a loud voice, proclaimed that the Roman world was to be disposed of to the best bidder by public auction.
Once he was emperor, he had reason to tremble.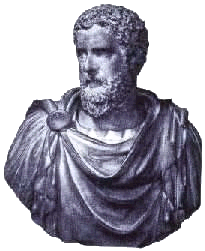 On the throne of the world he found himself without a friend, and even without an adherent. The guards themselves were ashamed of the prince whom their avarice had persuaded them to accept; nor was there a citizen who did not consider his elevation with horror, as the last insult on the Roman name."
"That assembly, convoked by the consul, unanimously acknowledged Severus as lawful emperor, decreed divine honors to Pertinax, and pronounced a sentence of deposition and death against his unfortunate successor. Julian was conducted into a private apartment of the baths of the palace, and beheaded as a common criminal, after having purchased, with an immense treasure, an anxious and precarious reign of only sixty-six days."
-- Sir Edward Gibbon, Decline and Fall of the Roman Empire