MARCUS AURELIUS ANTONINUS


"His meditations, composed in the tumult of a camp, are still extant; and he even condescended to give lessons of philosophy in a more public manner than was perhaps consistent with the modesty of a sage, or the dignity of an emperor."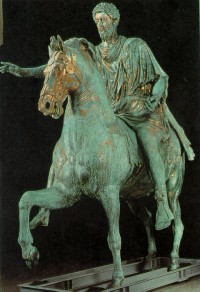 "Marcus Aurelius was severe to himself, indulgent to the imperfections of others, just and beneficent to all mankind. He regretted that Avidius Cassius, who excited a rebellion in Syria, had disappointed him, by a voluntary death, of the pleasure of converting an enemy into a friend; and he justified the sincerity of that sentiment, by moderating the zeal of the senate against the adherents of the traitor. War he detested, as the disgrace and calamity of human nature; but when the necessity of a just defense called upon him to take up arms, he readily exposed his person to eight winter campaigns on the frozen banks of the Danube, the severity of which was at last fatal to the weakness of his constitution. His memory was revered by a grateful posterity, and above a century after his death, many persons preserved the image of Marcus Antoninus, among those of their household gods."
-- Sir Edward Gibbon, Decline and Fall of the Roman Empire