825 BC
Shaka Zulu

The Zulus announced their presence in 825 BC. Shaka was learned and friendly. Attempting to isolate Xerxes, Hammurabi the Crafty cultivated a relationship with Shaka. Trading Techs, Gold and Luxuries, Hammurabi negotiated the purchase of Shaka's World Map. Oh, yes. Shaka would be a balance to the Persians. Next, Hammurabi sold "Communications with the Zulus" to Xerxes in exchange for much knowledge.
Hammurabi the Conniving's plan to control the Plain of Tigris had worked. Babylon was an equal in size, if not in science, to any nation in the known world.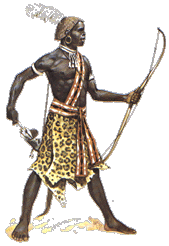 The Zulu culture was rising. Yes, Hammurabi would stay close to Shaka.