Mars, the god of war, fell in love with the Vestal Virgin, Silvia, and she gave birth to twin sons, Romulus and Remus. (For who can resist a God?) One brother, Romulus, founded Rome along the Tiber River.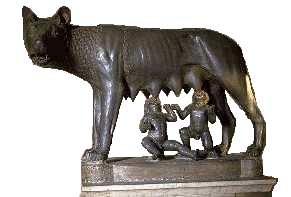 Remus, though nursed by the same she-wolf, would meet a bloody end by the hand of his own brother.
In the name of the Senate and the people of Rome.
Urbs ęterna.
The eternal city