Mon Cher Napoléon,

How long has it been since the day you went away? Has it really been as long as it seems, so many centuries ago?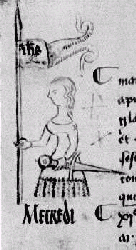 Yet, only yesterday I was just a girl. God had sent an angel to whisper in my ear, saying that all the world should be made France, a great nation in the eyes of the Lord. How could I, just a small girl, do this?
Then God sent a Great Leader. Vous, mon cher Napoléon. Vive la France! But how could we have known how it would all turn out?